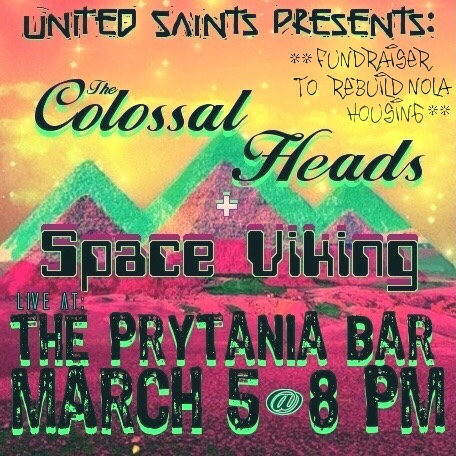 We are excited to announce that Thursday, March 5, we will be performing at the Fundraiser for The United Saints Recovery Project at The Prytania Bar! We will be joined by our good friends Space Viking from Houma, and if you haven't heard of these guys you need to wake up. They are an incredible group of musicians and their sound is something that needs to be heard! Also this will be the last Colossal Heads show in the great city of New Orleans until May, so your are going to want to see what we have behind the curtain. Come out on Thursday night and help support The United Saints, the rebuilding of New Orleans homes, and local rock music. 
 

Mission Statement for the United Saints:

We are a grassroots, volunteer-based nonprofit organization working to help restore the homes and hearts of communities affected by natural disasters. Our roots are in New Orleans, in the heart of Central City.
The mission of the United Saints Recovery Project is to assist communities that have suffered damage from natural disasters, helping residents return home, improve their quality of life and strengthen their communities. We do this with the help of local, national, and international volunteers, assisting homeowners in rehabilitating and rebuilding their homes, and engaging those homeowners in our effort to promote volunteerism within the community.
United Saints also hosts a community art program in New Orleans, involving local artists and community members in an effort to beautify and directly improve their environment. United Saints is a 501(c)(3) organization.
Formed in 2007 in New Orleans, the United Saints was born out of a need for assistance following the devastation caused by Hurricane Katrina. Hurricane Katrina struck New Orleans with a devastating blow, one from which the city is still recovering. The housing needs of many residents , especially in the poorer neighborhoods, remain unmet.
By providing economically disadvantaged residents with resources and encouragement, we can restore a sense of community pride. As volunteers, we grow personally through the experience of caring, and the giving of our hands and our hearts.
The United Saints is also working to assist homeowners in Tuscaloosa, Alabama and surrounding areas after a mile-wide  tornado struck the region in April 2011. In the aftermath of the storms, the United Saints were able to mobilize a team of emergency relief volunteers and were actively providing services in the most crucial time of need.  As a result of the impact of our organization and the collective efforts of the community, the United Saints established a satellite office in the city of Tuscaloosa to continue to lead volunteers in rebuilding efforts and strengthen our partnerships with local organizations.